At Seed of Life Schools, extracurricular activities are not shunned, in fact, we consider these activities for students in school as highly essential. We believe that education is a lot more than just academics. As much as we push for academic excellence in our students we also know that it takes more than that to ensure that our wards have a well-rounded educational experience. Only a complete and rounded experience can make any student who may happen to be excellent academically, a functional individual who can contribute positively to the society.
Our extracurricular program avails students the opportunity to participate in a vast plethora of socio-cultural, athletic, vocational, tabloid and educational clubs. The school expects each student to participate in at least one social, club or extracurricular activity of choice.
Sports Life at Seed Of Life Schools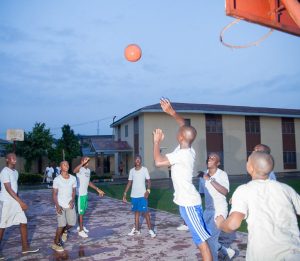 Sports is an integral aspect of a school's physical education curriculum and the general well-being of a child. The health and academic benefits of participating in sporting activities cannot be over-emphasized. Sports competitions and games encourage dedication, leadership, team spirit and many other good traits that cannot be developed in pure academic environments. Sports in Nigerian schools is extremely vital because sporting activities have immense health and educational benefits especially for children and adolescents. Sports ease aches and cramps, stretches and strengthens the bones and muscles of the body and aids fitness.
Here at Seed of Life Schools, we encourage our young and energetic students to engage in at least one sporting activity or recreational games. We believe that in building a complete and total child, the body must also be catered for and well exercised. Here are some of the sports Seed of Life students participate in:
Basketball
Football
Badminton
Track & Field games
Track and field games students participate in at Seed of Life School include sprints, relay races, shot put, javelin, high jump etc. Inter-house and inter school sports competitions and games are also highly encouraged at Seed of Life Schools. Our annual inter-house sports competition is one of the highlights of the session, trademarked as a time of joy, festivity, exercise and recreation at its peak. It is usually one of the best inter house sports competitions in Ibadan, in terms of outstanding performances especially in the track and field games and events.
Athletics in Nigerian secondary schools constitute one of the major interschool competitions and games our students like to participate in, they include sprints, middle and long distance races as well as the relay races. We at Seed of Life Schools, pride in being one of the schools with the best sports facilities in Ibadan. We have in place all the necessary equipment and sports facilities to ensure our students have the best of time including a fully equipped basketball court, football field, race track and many others. We also ensure we have a first-aid team on stand-by at all times. Exception to sports and other recreational activities are made to students with peculiar disabilities, disorders or restricting health conditions.
Why Extracurricular Activities At Seed of Life Schools?
Some people might be wondering, "Are extracurricular activities good or even necessary at all in schools?"
Certainly. There are immense benefits of extra-curricular activities.Some importance of socials and clubs in Nigerian schools, especially among primary and secondary school students include:
1. Extracurricular programs help students get actively involved in activities that interest them. These activities enable children develop their innate talents in and this can hardly occur in a strictly academic environment.
2. Extracurricular activities encourage teamwork and helps students develop social skills, leadership skills, people skills and cooperation among both teachers and students.
3. Extracurricular activities improve self-esteem by providing students with training on activities that interest them which they can excel at especially in cases where academic performance is average.
4. Participation in extracurricular activities enhances academic performance and mental alertness. It helps students provide solutions as groups or members of a club, to problems in areas that interest them.
5. Extracurricular activities in secondary schools help adolescents nurture and develop good traits, skills and talents that could provide a platform for participating in competitions and even obtaining college scholarships.
Who Can Participate in Extracurricular Activities at Seed of Life?
Extracurricular activities for secondary school students like are extremely vital. As such, we encourage all our students to participate unrestricted in extracurricular programs and personally choose the clubs they desire to participate in, with some guidance. The clubs and societies are so organized to help our students identify their innate gifts and talents, and help them hone those talents to perfection.
What are the Extracurricular Activities at Seed of Life School?
Examples of clubs and extracurricular activities for students in school, that are available in our institution include:
JETS CLUB
YOUNG FARMERS' CLUB
LITERARY AND DEBATE CLUB
PRESS CLUB
ROAD SAFETY CLUB
MATHEMATICS CLUB